IAFF Headlines
Current news directly from IAFF locals, councils, and state/province associations in the US and Canada.
Local 34 Christmas Party
12/18/14 - IAFF 34
Great time and good food at our first Christmas Party at the new hall.  Big thank you to Cynthia Austin for all her hard work to make it happen.
Call to Action
12/18/14 - IAFF 34
Thank you to all the members that came out to the city board meeting.
SuperBowl Party 2015
12/18/14 - IAFF Local 1403
Super Bowl Raffle tickets are on sale. Please contact your Battalion Rep or the Union Hall (305)593-6100 to get you ticket. Tail-Gate party starts at 1:00 and drawing will be held at halftime. All proceeds benefit the Firefighter Charities.
2014 Canton Ex-Newsboys'
12/18/14 - Canton Professional Firefighters Association
Funeral Services for Retired Denver Fire Fighter Paul Spurgeon
12/18/14 - Denver Firefighters Local 858
Brothers and Sisters, The funeral services for retired Denver Fire Fighter and Local 858 member Paul Spurgeon, will be held at 11am on Friday, Decemebr 19, 2014 at Cross of the Christ Lutheran Church, 12099 Lowell Blvd. Broomfield Co. Brother Spurgeon worked for the Denver Fire Department for 32 years and retired as the Division Chief of Operations.
Dyersburg Local 2269 Helps with Food Drive
12/18/14 - IAFF 14th District
On Friday December 12, 2014 Dyersburg Local 2269 with assistance from Kroger collected food for their local food pantry. The local paper ran a story about their efforts. They collected 43 shopping carts full of items in 16 hours. Great job Local 2269 in representing your local and helping your community!! For the link to the stroy - http://www.stategazette.com/story/2147527.
District Judge rules in favor of Local 613
12/18/14 - IAFF local 613
A District Court judge has ruled in favor of the Bozeman firefighters' union on a preliminary motion in a lawsuit filed by the city over the union status of newly created battalion chief positions.
Massachusetts Firefighters to Warm the Hearts of Children with Hundreds of New Winter Coats
12/18/14 - Professional Fire Fighters of Massachusetts
BOSTON, Mass. – This holiday season hundreds of less-fortunate children will be outfitted with brand-new winter coats thanks to the Professional Firefighters of Massachusetts. The statewide union raised more than $23,000 and partnered with Operation Warm, a national, non-profit organization that has provided new coats to 1.5 million children in need. 700 children in Holyoke, Lynn and New Bedford will receive brand new USA-made coats and be able to select their favorite color, and write their name on the interior tag of the new coat, which reads, "Made Just for You."
DALLAS STARS TICKETS ORDER HERE
12/17/14 - International Association of Firefighters Local 3453
3/3/15 AT 7:30 VS THE NY ISLANDERS.  LOWER LEVEL TICKETS $40.00 CLICK HERE  UPPER LEVEL TICKETS $15.
Ethel Cook's Funeral Arrangements
12/17/14 - IAFF Local 312
Contract Proposal
12/17/14 - IAFF Local 1296
2014 Toys For Tots
12/17/14 - Saint Paul Fire Foundation
Toys For Tots
12/17/14 - IAFF Local 902
Collecting "Toys-For-Tots" in Malden The Malden Fire Department working in conjunction with the U.S. Marine Corps is currently collecting new, unwrapped toys to benefit Toys-For-Tots.
Akron may promote firefighters for first time using new process
12/17/14 - Paul Hufnagel
Akron may soon promote firefighters for the first time based on seniority and training, rather than a test.
Danville council OKs budget that cuts firefighters
12/17/14 - Paul Hufnagel
There will be fewer firefighters battling fires in Danville next year as aldermen approved a new spending plan Tuesday night that reduces their ranks to 42 through either attrition, layoffs or both.
Even with Stock Market's Rise, Many Pensions Haven't Recovered from Recession
12/17/14 - Paul Hufnagel
Almost 40 percent of pension plans examined, even those that have been well-funded, have yet to reach their pre-recession peaks.
City of Bozeman Vrs Bozeman Fire Fighters Hearing rules in favor of L613.
12/17/14 - IAFF local 613
Good morning, we've had numerous questions and tons of support regarding the cities legal action against its very own Bozeman Firefighters IAFF Local 613 . 
By Law Change
12/17/14 - Denver Firefighters Local 858
The attached bylaw changes were unanimously approved at E-board to be presented to the membership at the Union Meetings on Wednesday, January 7th at 7:00pm and Thursday, January 8th at 8:30am.
Farmington Hills firefighters donate jackets
12/17/14 - Michigan Professional Fire Fighters Union
This winter 50-some students at Lanigan Elementary School will be warmer thanks to the efforts of Farmington Hills firefighters.
2015 World Police & Fire Games
12/17/14 - IAFF 14th District
Good Afternoon: It is with great excitement and anticipation to be contacting you regarding the 2015 World Police & Fire Games; being hosted in Fairfax County, Virginia next summer between June 26, and July 5, 2015.  It is one of the largest multi-sport, multi-venue events in the world; it is larger than the Summer Olympics.
Final Payday Raffle Drawing & Choir Practice
12/17/14 - Denver Firefighters Local 858
Please join the DFFBF for choir practice and the final 2014 payday drawing for $5000.00 on December 19th at Dougherty's. The Burn Foundation will be providing beers, bloody's and breakfast from 7:30 to 9:00 to show our appreciation of your support.
2015 LETS FIRE CANCER - NEWSLETTER
12/17/14 - Lets Fire Cancer
Holiday Wishes From Local #60
12/16/14 - Scranton Firefighters IAFF Local # 60
Merry Christmas and a Happy New Year .
J-Benefit Period
12/16/14 - Detroit Fire Fighters Association
"J" time remains to be a contractual benefit under the 2014-2019 Collective Bargaining Agreement which provides continuation of full pay and benefits for all duty-disabled employees for up to one year. As such, you may be asked to complete an Election of Benefits Form. If so, you are advised to select to receive benefits under the City of Detroit Charter Plan.
JOB OPENING: PITTSFIELD TWP FIREFIGHTER
12/16/14 - Michigan Professional Fire Fighters Union
This is a Full-Time, Union, Non-exempt position with competitive pay and benefits. Deadline to apply is February 28, 2015.
Local F-273 Needs Your Help Saving The EFMP Children's Christmas Party
12/15/14 - IAFF Local F-273
The Exceptional Family Member Program (EFMP) annual kids Christmas party is held with approximately 50 EFMP children each year. In the past they have been supported by other outside entities. Unfortunately, this year no one else has stepped up to assist, which led to this event being within two days of being cancelled.
December Meeting Agenda
12/15/14 - Huntley FF Local 4106
Lincoln St Double 12.14.14
12/15/14 - IAFF Local 2647
One woman was transported to Berkshire Medical Center with burns on her hands and feet in the wake of a fire at 27 Lincoln Street that badly damaged a two-family home Sunday morning In addition to the woman, whose condition was unavailable yesterday, three firefighters were also injured in the blaze, according to Acting Deputy Fire Chief Steven Peaslee.
Annual Christmas Gathering
12/15/14 - IAFF Local 312
What: "ANNUAL CHRISTMAS GATHERING" When: Friday December 19, 2014 (A-Turn) Where: Big's Burgers & Beer 1597 Mahoning Ave. Youngstown, OH Time: 2000hrs. This is an informal event. There is no cost and you will be responsible for your own bill.
LPFFA Local 851 Firefighter Fitness Challenge
12/15/14 - IAFF 851
Lane Professional Firefighters Association "Firefighter Fitness Challenge" January 1ST thru March 31st Attention all Lane County Professional Firefighters, Family, and Volunteer Firefighters!      Beginning January 1st, 2015, we will kick off the first ever Firefighter Fitness Challenge. The event will begin January 1st and end March 31st of 2015.
Local F-273 Attends "Wreaths Across America" Service
12/15/14 - IAFF Local F-273
This past Saturday Local F-273 President Mike Trainor attended the annual "Wreaths Across America" service at Arlington National Cemetery. President Trainor assisted in laying wreaths on the graves of our Nation's veterans in honor of their sevice. We would like to thank President Mike Jackson of Fort Meyer IAFF Local F-253 in helping coordinate this service.
Three New Officers for Local 2687
12/15/14 - Hamden Professional Firefighters
New Fire Marshal and Two New Lieutenants for Hamden Fire: December 12th, 2014 Deputy Fire Marshal Brian Dolan was promoted to Fire Marshal, and Firefighters Dan Such and Rich Lennon promoted to Lieutenant on Wednesday, December 10th, 2014. All three were sworn in during a ceremony held at Memorial Town Hall on Friday, December 12th.
B Shift Vice President Election
12/15/14 - Aurora Fire Fighters
Election will be held tomorrow, December 16th.
Denver Firefighters Annual Ball, Awards Ceremony, and Retiree Banquet
12/15/14 - Denver Firefighters Local 858
Denver Firefighters Local 858 Presents, The Firefighters Annual Ball, Awards Ceremony, and Retiree Banquet This very prestigious event is to be held Friday February the 27th, 2015 at the Four Seasons Hotel, 1111 14th St., Denver Class A attire should be worn or a Military Uniform, as this is a formal event.
Family Christmas Party
12/14/14 - Bossier City Firefighters Association
We hope everyone that made it to this year's Christmas Party had a great time. Thanks to everyone that made it a success.
January Meeting
12/14/14 - Bossier City Firefighters Association
Operation Warm 50/50 Raffle
12/14/14 - IAFF Local 3991
The winner of the Operation Warm raffle is Wynn Gordy from Schertz Texas. Thank you for all those involved in the raffle, we will be able to help all the kids we identified in new warm coats this winter.
Tim Flaherty Blood Drive 12/20
12/14/14 - IAFF Local 740
Tim Flaherty Blood Drive Yarmouth AMVETS 9a-2pm 12/20/14 redcrossblood.
Firefighter Toy Store In Big Demand This Year
12/14/14 - IAFF Local 3990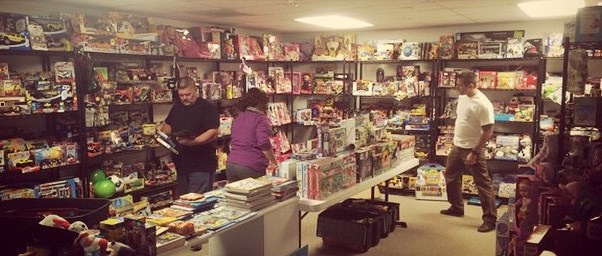 Leesburg, FL – The Lake County Firefighter Charity has started welcoming local families that need a little help this Christmas to the Christmas toy store to shop for their children. "We have had applications to help between 600 to 700 children this year" according to Lt. Brian Gamble, President of the Lake County Firefighter Charity.
Lawton Firefighters ring Salvation Army Bell
12/13/14 - IAFF local 1882
Posted: Dec 12, 2014 4:04 PM PST Updated: Dec 12, 2014 4:46 PM PST By Derek Hendy, Internet Content Director LAWTON, Okla._'Tis the season to spread holiday cheer and Lawton firefighters were out in full force doing their part. Friday, a team of firefighters stood outside of the Walmart on Northwest 67th Street and Quanah Parker Trailway, lending a hand to the Salvation Army.
Updated Information Concerning Door Flyers
12/13/14 - IAFF Local 452
The Union has filed a report with the Vancouver Police Department concerning someone identifying themselves as the president of the Vancouver Firefighters Union.  This person has been making the rounds in at least the Lincoln neighborhood and McLoughlin Heights area leaving door flyers.
Now Testing for Fire Prevention Specialist
12/13/14 - Irving Professional Fire Fighters Association
LODD of Brother Neal Mullane, Boston Local 718
12/13/14 - Professional Firefighters of Maine
It is with deepest regret and sorrow to report the line-of-duty death of Lieutenant Neal A. Mullane, Sr. of IAFF Local 718 – Boston, Massachusetts. Brother Mullane, 71, passed away on Friday, December 12, 2014 from cancer. The Viewing will be held on Monday, December 15, 2014 from 3:00 to 8:00 p.m.
Retirement Board
12/13/14 - IAFF Local 1652
Local 1652 is pleased to announce the Local 1652 President Joe Fonseca has been elected to the Framingham Retirement Board.  Brother Fonseca would like to thank all of those who supported him during the campaign.
Boston Local 718 - LODD, (Retired)
12/13/14 - IAFF Local 739
Boston Local 718 LODD Lt. Neal Mullane Sr. - Retired Local 718 regrets to announce the death of past Vice President Neal Mullane Sr. Engine 21 retired. Brother Mullane served for many years on the Local 718 Executive Board and both Local 718 and IAFF Safety Committee's improving fire ground safety for every firefighter in this country. Rest in peace my friend.
MPFFU Executive Board Meeting Minutes - 12/1/2014
12/13/14 - Michigan Professional Fire Fighters Union
Election Results
12/13/14 - IAFF Local 648
Headlines Provided By:
Profirefighter.com - IAFF Website Design, IAFF Website Hosting, 100% Union Made in the USA.
GrievTrac.com - Online Grievance Tracking Software, 100% Union Made in the USA.
UnionActive.com - Website Content Management System with Powerful Communication Tools for Union Website's, 100% Union Made in the USA.
IAFFLocals.com - Complete list of IAFF locals and websites plus featured content from IAFF locals around the US and Canada.
IAFFWebsiteDesign.com - IAFF Web Design, Specifically for IAFF Local Website's, 100% Union Made in the USA.