IAFF Headlines
Current news directly from IAFF locals, councils, and state/province associations in the US and Canada.
Local 299 St Patrick Shirt Sale
02/14/16 - Pennsylvania Professional Fire Fighters Association
Altoona, IAFF Local 299 is selling shirts for St. Patricks Day.
Local 21 Regrets To Announce The Passing Of Retired District Chief Ben Renteria
02/14/16 - IAFF Local 21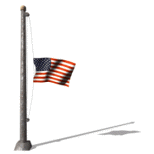 Local 21 regrets to announce the passing of retired District Chief Ben Renteria. District Chief Renteria was a 40 year member of the St. Paul Fire Dept., retiring in 1988. Memorial service Tuesday, February 16, 2016 at 11 AM at Our Lady of the Lake Catholic Church, 2385 Commerce Blvd, Mound (952-472-1284).
SAFER Grant Application Period Opening Soon
02/14/16 - Michigan Professional Fire Fighters Union
The application period for Fiscal Year 2015 Staffing for Adequate Fire and Emergency Response (SAFER) grants is expected to open in March 2016. The IAFF urges affiliates to work with their fire chiefs and local lawmakers to file for the grant.
Lake County Welcomes New Firefighters and Recognizes Outstanding Service
02/13/16 - IAFF Local 3990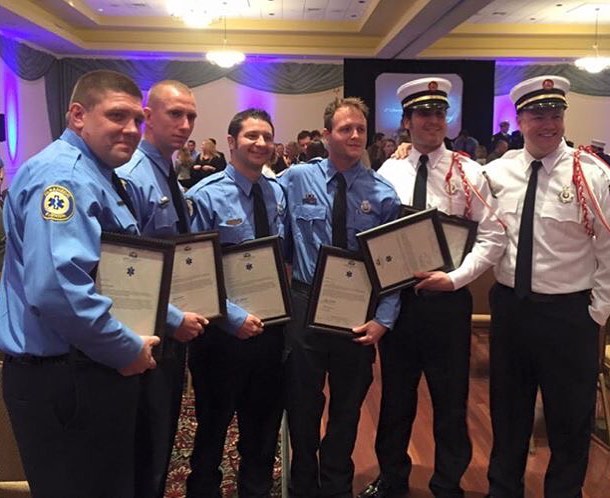 Mt. Dora, FL – Hundreds of friends and family members filled the room at Lake Receptions Friday night as Lake County welcomed 18 new hire recruits and recognized life-saving actions of firefighters in 2015. The 18 new firefighter recruits recently completed a 5 week training school with Lake County Fire Rescue to become candidates for hiring.
Easter Egg Scramble
02/13/16 - IAFF Local 1565
Come Out to the Annual Easter Egg Scramble. Bring the Kids, Meet the Wrabbit, Have some fun 11 AM Station 3.
Congrats to the newest medics at IFFD.
02/13/16 - IAFF Local 1565
Congratulations the the newest Medics in our IFFD Family. Brothers Bill Radecky, Will Arsenult, Conner Cook, and Craig Peterson have all been bumper over in to the Medic seat. This means for them more responsibility, more opportunity, more calls, more money, more respect.........well, the money part is true.
Group 4 Works Car Fire
02/13/16 - Belmont Firefighters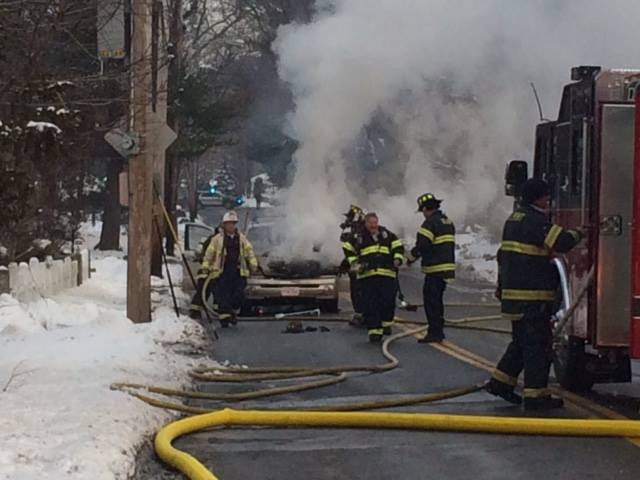 Just after 0730 on February 10th, Engine 1, Ladder 1 and C3 (Group 4) were dispatched to a car fire on Winter Street. On arrival they found a car with fire in its engine compartment.
7th Annual Dally Cup
02/13/16 - Belmont Firefighters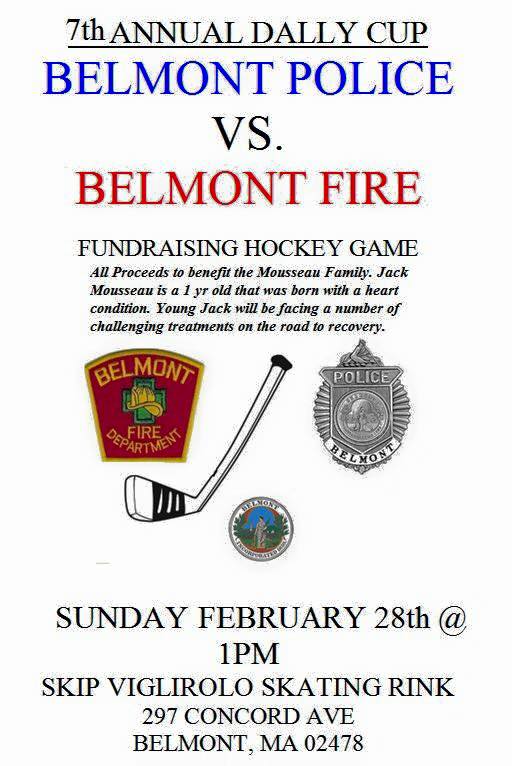 Get Green Fest is Coming!!!
02/12/16 - Fort Wayne Professional Firefighters
QC Times Article
02/12/16 - Davenport Association of Professional Firefighters Local #17
Click on read more for article link
FPD Officer Jason Moszer
02/12/16 - Fargo Fire Fighters
It is with deep sadness that we report the death of Fargo Police Officer Jason Moszer while responding to a domestic disturbance on Thursday, February 10, 2016. Our thoughts and prayers go out to the Moszer family, our brothers and sisters of the Fargo Police Department, and the community of Fargo as we all struggle to deal with this tragic loss.
Support Team Jameson
02/12/16 - Professional Fire Fighters of New Hampshire
Presidents' Day Holiday
02/12/16 - IAFF Local 42
Our office will be closed on Monday, February 15, 2016 in observation of President's Day Holiday.
Story About Michigans FF Cancer Presumption
02/12/16 - IAFF Local 1557
http://m.michiganradio.
Elections
02/12/16 - IAFF Local 135
Nominations for the following positions will take place at the March Meeting. Secretary Treasurer Trustee (currently Jim Heath) Nominations can be made through the elections committee, or by contacting the office. The following members make up the elections committee.
Uniontown L0955 CBA 1.1.2015-12.31.2019
02/12/16 - Pennsylvania Professional Fire Fighters Association
Uniontown L0955 contract beginning January 1, 2015 through December 31, 2019 has been posted on the Contracts page.
5 Tips to Reduce Your Risk of Cancer at the Fire Scene
02/12/16 - UPFFA
Golf Outing Save the Date
02/12/16 - Norwalk Fire Fighters
2016 Local 830 Benefit Golf Outing Monday, May 23rd, 2016 Oak Hills Golf Course Fillow Street, Norwalk CT More information regarding tee times and tournament fees will be announced as the date gets closer.
ALASKA ACES FIRST RESPONDER NIGHT
02/12/16 - IAFF Local 1264
ALASKA ACES FIRST RESPONDER NIGHT MARCH 11, 2016 Free tickets are available for IAFF members and their families. Contact Pat O'Shea for tickets. Deadline is March 4.
Michigan Radio Coverage of Cancer Presumption Bill Funding
02/11/16 - Michigan Professional Fire Fighters Union
Cancer Presumption Funding Story Covered by Michigan Radio. Read story and liisten to audio.
February 11, 2016 - UPDATE
02/11/16 - IAFF Local 1014
Los Angeles County Firefighters IAFF Local 1014 Representing over 3200 Firefighters, Paramedics, Dispatchers, Pilots, Wildland Firefighters, Forestry and Health Haz Mat personnel Thank you Brothers and Sisters for making the Calabasas Regional General Membership Meeting on Tuesday February 9, 2016 a great success.
May 2016 Lottery
02/11/16 - Chester Firefighters Local 1400
FORE SALE! May 2016 Lottery tickets benefits State President Martynuskas run for 4th district Vice President. See Secretary Ed Reilly for tickets.
Letter from FPF Vice President Salvatori
02/11/16 - IAFF 1826
Subject: Senator Jeremy Ring on FRS Death Benefits Brothers and Sisters, Today, the Florida Senate unanimously (40-0) passed SB 7012. The bill substantially (and in some cases, retroactively) increases death benefits for first responders killed in the line of duty.
Brother Schomburg Wake & Funeral Info
02/11/16 - Boston Fire Fighters
The Wake for Brother William Schomburg Ladder 19 will be held Sunday February 14th from the John O"Conner Funeral Home 740 Adams Street Dorchester 2 p.m. to 6 p.m. A Funeral Mass will be held Monday February 15th Saint Brendans Church 589 Gallivan Blvd. Dorchester at 10 a.m. All off duty members are asked to report to District Chief Robert Dowling outside the Church at 0930 Hrs.
Proposition 3
02/11/16 - Local 3230
TSAFF Member, I know that many TSAFF members will be voting in the March 1st Republican Primary election. If you happen to be one of these members, please be advised of the following information about Proposition #3. When you go to the polls on March 1st for the Republican Primary several propositions will be on the ballot. PLEASE PAY PARTICULAR ATTENTION TO PROPOSITION #3.
2016 PFFM Legislators Reception
02/11/16 - Professional Fire Fighters of Massachusetts
The Professional Fire Fighters of Massachusetts will host their annual Legislators Reception, on Monday, March 7, 2016. To register and purchase tickets online please click read more.
Corey Rose Cancer in the Fire Service Series
02/10/16 - Mountain View Professional Fire Fighters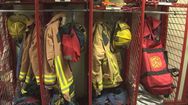 9 News Ancor Corey Rose dedicated a three-part series, "Left in the Smoke" highlighting the growing issue of cancer in the fire service. As many of you know, Corey sits on the Board of Directors for the CPFF Foundation. Corey's father, Gary, died due to job related cancer shortly after retiring from a 32 year career with LA City Fire. Here is the entire three-part series: http://www.
Rights of Emergency Responders Page added
02/10/16 - Pennsylvania Professional Fire Fighters Association
The PPFFA has added a "Rights of Emergency Responders" page to the website. It currently has FLSA, FMLA, Cancer Presumption, Act 195, Act 111, PA Sunshine Act, NLRA, HIPAA, Title VII as it pertains to workplace discrimination and employees' Garrity and Weingarten Rights. All may be downloaded and/or printed.
Proposition 3
02/10/16 - Lubbock Fire Fighters
TSAFF Members, Hopefully, you are all aware, by now, about Proposition 3 on the Republican Primary ballot, regarding payroll deductions for union dues. It has come to our attention, that the ballots will not read the same in all counties in the state. The question is the same, but the answer is different depending on the county you are in.
KC Fire vs St. Louis Fire Hockey Match
02/09/16 - IAFF Local 42
Download Event Flier here.
KPERS Update
02/09/16 - Olathe Firefighters IAFF Local 2542
http://www.theolathenews.com/2011/03/08/1040787/police-add-web-messaging.htmlPolice add web messagingBy JOE LAMBEjlambe@theolathenews.com  Olathe police are starting a web-based communication system that allows them to send messages to citizens.
New Farmington Hills fire chief takes command
02/09/16 - IAFF Local 1164

Jon Unruh grew up in Farmington Hills and cut his firefighter teeth as a paid on-call firefighter for his hometown department. Some 28 years later Unruh is officially running the department. Unruh, hired last month to replace the retired Corey Bartsch, took the reins as the sixth fire chief in Farmington Hills history Monday after being sworn in by city Clerk Pam Smith.
Tigers caravan rolls through Livonia with present to fire department
02/09/16 - IAFF Local 1164

The Detroit Tigers brought their annual winter caravan through Livonia last week, and helped the city mark a special occasion in the process. Several Tigers players and various members of the Tigers organization were at the fire department headquarters to deliver a present to Fire Chief Shadd Whitehead.
Local 3027 Participated in Denver Bronco Parade
02/09/16 - Cunningham Fire Fighters
Local 3027 members along with other front range locals took part in the Denver Bronco Victory parade.  See more images by clicking the link below.  Photos courtesy 5280Fire. http://5280fire.com/.
Vote NO on Prop 3
02/08/16 - Irving Professional Fire Fighters Association
Vote NO on Proposition 3 Dues Check Off Vote AGAINST Proposition 3
Update on hotel rooms for the ball
02/08/16 - Denver Firefighters Local 858
Hello all members, How bout them BRONCOS! Quick ball update, our hotel room block @ The Four Seasons is Sold Out, that's the bad news. So if you procrastinated to get a hotel room they are gone. Here's the good news, we have secured another block of rooms @ The Grand Hyatt just 4 short blocks away.
THANKS TO THE STAFF OF IFFD
02/08/16 - IAFF Local 1565
Thanks to the Staff of the IFFD for focusing on the training of this new group of Driver candidates. The level of commitment towards training had been monumental. So from Local 1565, Thank You!! To the Firefighters taking the Drivers test, Good Luck, Good Job and Full steam ahead.
Shane Clifton PSOB Awarded
02/08/16 - IAFF Local 21
Mona Dohman Commissioner of the Minnesota Department of Public Safety presents Firefighter/Paramedic Shane Clifton's daughter Finley with the LODD PSOB Proclamation.
Ice Fishing Contest
02/08/16 - IAFF Local 21
AFL-CIO Scholarships
02/08/16 - Minnesota Professional Fire Fighters
Scholarship Applications Posted 2/8/16
02/08/16 - New London Fire Fighters
The Scholarship applications for the John M O'Connor Trust and the Dr. Carl Wies Scholarship Fund have been posted in the "Scholarships" link located on the left side of this website. Applications must be RECEIVED by April 1st, 2016.
Busy 2015
02/08/16 - New London Fire Fighters
In 2015, Local 1522 had one of the busiest years, responding to 7135 calls. So far, 2016 is starting out very busy also. Currently we have responded to 752 calls since 1/1/2016.
Bowl for Kids' Sake
02/08/16 - Professional Fire Fighters of New Hampshire
Bowl For Kids' Sake is almost here! Bowl For Kids' Sake is Big Brothers Big Sisters' signature fundraiser and each year half a million people across the country come together to have fun and raise money to support Big Brothers Big Sisters at the local level.
SuperBowl Raffle Winners!
02/08/16 - IAFF Local 1403
Congratulations to the following people for winning the SuperBowl Party Raffle: Kirk Orr - $25,000; Heidi Bradley - $15,000 and Carey Yeomans - $10,000 Congrats to all.
MINNESOTA FIRE SERVICE FOUNDATION Scholarship Application
02/08/16 - Minnesota Professional Fire Fighters
Meeting Tuesday and other items
02/07/16 - IAFF Local 1014
Tuesday, February 9, 2016: Appropriations Committee Public Hearing
02/07/16 - UPFFA
There is an important Appropriations Committee public hearing on Tuesday, February 9th at 1600 hrs. to discuss cuts to the Department of Emergency Services and Public Protection budget. One of our concerns is the consolidation of funds which zeroes out the line item for the Connecticut State Firemen's Association. Benefits for LODD, disability benefits, and beneficiary benefits.
Headlines Provided By:
Profirefighter.com - IAFF Website Design, IAFF Website Hosting, 100% Union Made in the USA.
GrievTrac.com - Online Grievance Tracking Software, 100% Union Made in the USA.
UnionActive.com - Website Content Management System with Powerful Communication Tools for Union Website's, 100% Union Made in the USA.
IAFFLocals.com - Complete list of IAFF locals and websites plus featured content from IAFF locals around the US and Canada.
IAFFWebsiteDesign.com - IAFF Web Design, Specifically for IAFF Local Website's, 100% Union Made in the USA.