IAFF Headlines
Current news directly from IAFF locals, councils, and state/province associations in the US and Canada.
Seasonal Flu Clinics at Norwalk Health Dept.
09/29/14 - Norwalk Fire Fighters
FYI: Seasonal flu shots are available to all city employees and their families at the Health Department at 137 East Avenue during the following time frames: September 30, 5-7pm Community Clinic October 28, 1-3pm Employees and families only Every Tuesday from 1-3pm beginning in October through the winter season Any questions can be directed to Theresa at ext.
UPFFA President Carozza & Governor Malloy
09/29/14 - UPFFA
UPFFA of Ct. Peter S. Carozza, Jr.
Sylvania Township, firefighters head to mediation over exercise dispute
09/29/14 - Paul Hufnagel
Sylvania Township officials and its firefighters union are scheduled to meet with a mediator next week to resolve a dispute over the amount of exercise among firefighters.
Former chiefs question tactics like those used at Dallas blaze where firefighter died
09/29/14 - Paul Hufnagel
When Dallas firefighter Stanley Wilson died battling a condo blaze last year, everything fell apart — from the building where he was trapped to his commanders' questionable orders.
Newest Detroit firefighters graduate from the training academy
09/29/14 - Paul Hufnagel
DETROIT (WXYZ) - They signed up to put their lives on the line to serve the citizens of Detroit, and after 22 weeks of training, the Detroit Fire Department's newest recruits are ready for the job.
Burlington Firefighters MDA 5K
09/29/14 - Professional Fire Fighters of Vermont
Fire Ops 101 Shows What Firefighters Go Through Everyday (VIDEO)
09/29/14 - Paul Hufnagel
Firefighters no doubt have one of the most dangerous jobs on record. Elected officials and journalists, as well as other members of the community, had to face the heat and go through a day of firefighter training.
Hero Half Update
09/29/14 - IAFF Local 2866
Bikes, Blues and BBQ is over and we all ate way too much. Now it is time to get into shape because the Fayetteville Half Marathon is just around the corner(Oct. 18th). So break out your running shoes and get ready. Find our more at www.herohalfmarathon.
Campaign Literature from the Collective Bargaining Nominees
09/29/14 - Denver Firefighters Local 858
Campaign Literature from the Collective Bargaining Nominees Candidates for the Collective Bargaining committee have submitted campaign literature to be distributed to the membership prior to the upcoming elections this week. Please see the attachment, and come to the October Union meetings to vote for the candidates that you would like to represent you at the upcoming negotiations in March.
Local F-273 Blankets For Sale
09/29/14 - IAFF Local F-273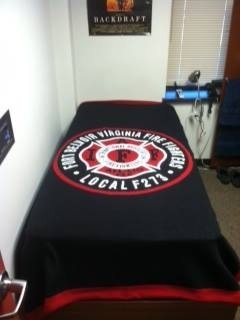 Union Blanket Order: $55 dollars per blanket. Money needed by November 1st. Order goes out on November 2nd. Estimate 2-3 weeks for delivery. Please contact FF Card at Station 466 to order. Blankets fit up to a Double/Full sized mattress.
Thanks for your Support
09/29/14 - IAFF Local 2866
We would like to give a big THANK YOU to everyone who rode in one of our poker runs or bought a Tee Shirt from our tent. Thanks to all of our sponsors and all of the help from the firefighters and their families. This year was a HUGE success because of you.
Ft. Myers Shores FD-Fire Prevention & Public Safety Day
09/29/14 - IAFF 1826
To all Local 1826 Members, Please see attachment containing information on this event. Included will be their First Annual Rib Competition on Oct.
MPFFU Health & Safety Message (September 2014)
09/29/14 - Michigan Professional Fire Fighters Union
Sept. 29, 2014: There is an alarming trend in the Fire Service today, an increased rate in firefighter suicide. It is not a topic that has been tracked very accurately over the years, but recent studies have brought to light just how often it is occurring.
Modern Buildings: The Recipe for Firefighters Deaths or Injuries! (TRAINING)
09/29/14 - Michigan Professional Fire Fighters Union
Sept. 29, 2014: This ground breaking and informative program will utilize extensive multimedia materials to reinforce course content and subject areas.
FF's for Braley
09/28/14 - Iowa Professional Fire Fighters
Fire Fighters for Braley October 9th, 1300-1345 1041 8th Street, Des Moines, Iowa 50314 Please join us to show your support for Braley for Senate.
The Many Hats We Wear.
09/28/14 - IAFF Local 168
Has a firefighter, we are required to wear many hats as part of the job. Firefighter, EMT, a public educator, a car seat installer, just to name a few. Occasionally, earn get to earn a different hat to hang on our peg. For a few guys of Local 168, they can add elephant washer to their hats. A circus was in town and they were in need of the local fire department to help was the elephants.
Dinner at Ronald McDonald House
09/28/14 - IAFF Local 274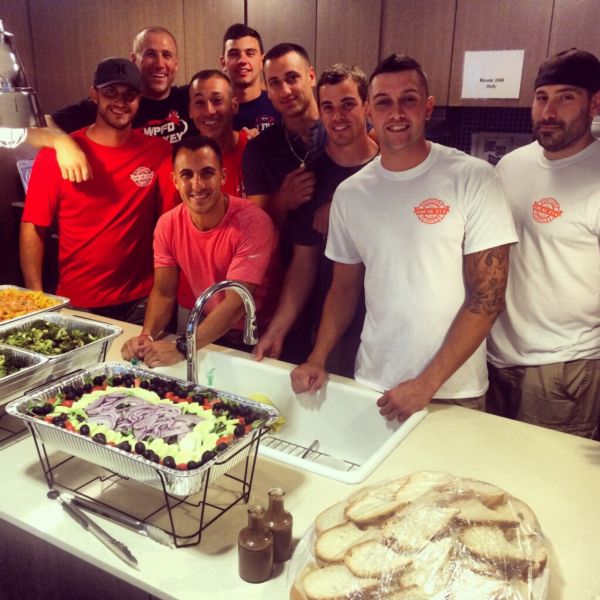 On 9-27-14 a group of Local 274 members prepared dinner for the families staying at the Ronald McDonald House at Westchester Medical Center.  The families were able to come back from visiting their sick/injured loved ones at the Maria Ferreri Childrens Hospital, to find an amazing dinner consisting of Salad, Penne a la Vodka, Chicken Marsala, Penne Pomodoro, and Deserts.
Concern for public safety
09/27/14 - Medicine Hat Fire Fighters Association Local 263
Interesting article about public safety at risk because of changing building codes. Clik on the link for more info. http://www.cbc.ca/news/canada/ottawa/taller-wood-frame-buildings-raise-fire-risk-firefighter-group-says-1.
Hall of Flame- Mr. January 2015: Snacks for Kids
09/27/14 - International Association of Firefighters Local 1782
Coquitlam Fire's very own, "Mr. January", has chosen the Coquitlam Charitable Society's Nutritional Snacks for Kids Program as his charity. "Too many kids go to school hungry every day in our community As a firefighter, we see the impact of child hunger first-hand. Providing a meal for these kids will allow them to concentrate on their studies and have a better chance to succeed," Mark says.
Fire Prevention Week
09/27/14 - IAFF Local 1164
Livonia Fire & Rescue's Annual Open House October 11, 2014 10am - 1pm Events planned are: Normal Fire Safety table top displays Two vehicle extraction demonstrations Cooking fire Demo Call 734-466-2444 For More Info OpenHouse2011VideoB from Weasel Video Production on Vimeo.
Concord Operation Warm Fundraiser
09/26/14 - Professional Fire Fighters of New Hampshire
November 10, 2014: UPFFA Treasurer's Workshop
09/26/14 - UPFFA
UPFFA OF CONNECTICUT TREASURER'S WORKSHOP MONDAY, NOVEMBER 10, 2014 9:00 A.M. – 1:00 P.M.
Brownstown firefighters give motorists the boot to help Muscular Dystrophy Association
09/26/14 - Michigan Professional Fire Fighters Union
Taking a charitable cause to the streets, Ryan McMenemy, a lieutenant with the Brownstown Township Fire Department, is one of several firefighters participating in the Fill the Boot campaign to help fight muscular dystrophy.
Support Nancy Cronk
09/26/14 - Cunningham Fire Fighters
Denver Fire Fighters Burn Foundation Payday Raffle
09/26/14 - Denver Firefighters Local 858
Hello All, A message from the Denver Fire Fighters Burn Foundation: The $1,000 winner for the September 26th payday raffle is Paul Swedhin, Truck 27 C-shift. Congratulations to Paul! The next payday raffle will be Friday, October 10th. Thanks to everyone for your continued support.
Two from Denton visit New York for 9/11 anniversary
09/26/14 - Denton Fire Fighters Association
Two members from the Denton Fire Fighters Association, firefighters John Jones and Shane Robert, visited New York City for the anniversary of 9/11 this month. Please got to the following link for the article in the Denton Record Chronicle. http://www.dentonrc.com/local-news/local-news-headlines/20140921-firefighters-pay-respects.
IAFF Local 772 supports the Komen Race for the Cure
09/26/14 - IAFF Local 772
Funeral Services for L3650 Member Dan Meyer
09/25/14 - Oregon State Fire Fighters Council
Please forward this on to your members. If your department is sending some personnel please send me a note with how many might be coming. Thank you. Follow up for Dan Meyer Service this Saturday: SERVICE Service begins at 1000 at the St. Thomas Catholic Church which is located at 1720 NW 19th St.
Home
09/25/14 - IAFF Local 157
Breast Cancer Shirts 2014!
09/25/14 - Crowley Professional FireFighters Association
The Crowley Professional Firefighters Association Local #4182 is proud to announce the upcoming arrival of our 2014 Breast Cancer Shirts! Sales will start as soon as they arrive! We will be accepting orders as well as selling shirts at both of our Fire Stations! Contact us if you have any questions! We will keep you posted as more details come in.
Home
09/25/14 - IAFF Local 157
Special Meeting Announcement for October 3, 2014
09/25/14 - Albuquerque Area Fire Fighters
On Friday, October 3, 2014 the IAFF Local 244 Executive Board has called for a Special Meeting to discuss options and receive direction from the County Chapter membership in reference to the Fire Marshall's Office MOU. This meeting is called pursuant to Article V, Section 6, Special Meetings of the IAFF Local 244 Constitution & Bylaws.
MSCFF Lit Drop for 28th District
09/25/14 - Missouri State Council of Fire Fighters
The MSCFF is sponsoring a Lit Drop for Noel Torpey, Missouri House 28th District on Sunday, October 12th from 9:00 AM till NOON AM at IAFF Local 42 Union Hall, located at 6320 Manchester Ave, Kansas City, MO 64133.
Red Wings to hold annual smoke detector drive before home games Thursday and Saturday
09/25/14 - Michigan Professional Fire Fighters Union
The Detroit Red Wings and captain Henrik Zetterberg are asking fans attending their first two preseason home games at Joe Louis Arena to lend a hand in the effort to provide smoke detectors to low-income and elderly households.
Burn Ban Lifted by Kitsap County Fire Marshall
09/25/14 - South Kitsap Professional Firefighters
From the Fire Marshalls Office: 'The Kitsap County Fire Marshal announced the ban on outdoor burning will be lifted effective 8 a.m.on Thursday, September 25, outdoor burning throughout unincorporated Kitsap County may resume subject to the normal permitting requirements, rules and regulations. Additional information is available by contacting the fire marshal at 360.337.
PFFM Delegates Vote Unanimiously to Endorse Martha Coakley for Governor #WeSupportThoseWhoSupportUs
09/25/14 - Professional Fire Fighters of Massachusetts
On September 18, 2014, at the monthly state meeting of the Professional Fire Fighters of Massachusetts, the assembled delegates listened to arguments for endorsing a candidate for Massachusetts Governor.  After all the information and facts were presented, the delegates voted unanimously to endorse Martha Coakley.
Stuck in Cabo
09/25/14 - Hoffman Estates Professional Fire Fighters Association, Local 2061
~~ IAFF Members Stranded After Hurricane in Cabo Return Home from IAFF in Action Sixteen Hoffman Estates, IL Local 2061 members are finally back in the United States after being stranded in Cabo San Lucas, Mexico, for several days in the aftermath of Hurricane Odile, a Category 3 storm. The fire fighters were attending the destination wedding for Local 2061 member Tom Mangiameli.
Judge Won't Speed Up North Riverside's Attempt To Privatize Fire Dept.
09/25/14 - Paul Hufnagel
CHICAGO (CBS) – An attorney for a suburban firefighters union said they will continue their fight against an attempt by the village of North Riverside to privatize its fire department.
2014 CHARITABLE GIVING
09/25/14 - Lets Fire Cancer
MAKE THE MOST OF YOUR 2014 CHARITABLE GIVING!   100% of your donation will go directly to established, promising cancer research.
2014 Studs & Suds / Chicks & Chablis
09/24/14 - Saint Paul Fire Foundation
A beer and wine tasting/fashion show Hosted by the Saint Paul Fire Foundation Date: Friday, November 7th Time: 6:00pm to 10:00pm 7:00pm to 7:30pm - Fashion Show Venue: A'BULAE, 255 East 6th Street, Lowertown   Entrance to A'BULAE will be "directly" under the American Flag! ($5.
ALS Ice Bucket Challenge
09/24/14 - IAFF Local 3560
I would like to give a big thank you to all the members and CAP volunteers that came out to Station 232 to participate in the ALS Ice Bucket Challenge. As well as A-Shift for pitching in and help us complete the challenge.  It was a great showing of support from the Membership for one of our own retired Firefighters, Bob Price, and Board Member.
BUG OUT BAG- Don't Tread On Me
09/24/14 - IAFF Local 3169
Get your BUG OUT- Don't Tread On Me bags for $75.00 less a 10% discount for Firefighters! Checkout The Gear Barrel at - www.gearbarrel.com I saw only FIVE left on the shelves of the special edition yellow for the "Don't Tread On Me" flag. Stop on by and checkout the shop. They customize Ruck Bags, Gear Belts, Ladder Belts, Slings, etc.
Congrats and Thank You!
09/24/14 - IAFF Local 3560
Congratulations on your promotion to Battalion Chief Robert Helie and to Captian Mike Molite.  Also a very big THANK YOU to your dedicated service to the Sun Lakes Fire Department and wish you the best of luck in retirement Cheryl Van Horn.
ELECTION OF COLLECTIVE BARGAINING COMMITTEE
09/24/14 - Denver Firefighters Local 858
Elections for the Collective Bargaining Committee will be held at the October Union meeting.  This committee will be responsible for bargaining with the City for a new Collective Bargaining Agreement.  The current agreement ends December 2015.
Merritt Federal Credit Union
09/24/14 - Norwalk Fire Fighters
The Merritt Federal Credit Union in Wilton, CT. has extended an invite to Local 830 members to enjoy the many benefits offered by thier organization.  They are fully set up for payroll deduction through the city payroll department and the benefits can be taken advantage of immediately.
Cunningham Open House
09/24/14 - Cunningham Fire Fighters
Passing of Kathi LaRusso
09/24/14 - Aurora Fire Fighters
It is with great sadness that we announce the passing of retired Battalion Chief Marty LaRussos' wife Kathi LaRusso. Visitation, Thursday, 6-8pm, Horan & McConaty Family Chapel, 9998 Grant St. Funeral Service, Friday, 11am, St. Stephen's Lutheran Church, 10828 Huron St. Entombment, Mt. Olivet. Donations may be made in her name to Aurora Warms The Night, 1544 Elmira St.
Headlines Provided By:
Profirefighter.com - IAFF Website Design, IAFF Website Hosting, 100% Union Made in the USA.
GrievTrac.com - Online Grievance Tracking Software, 100% Union Made in the USA.
UnionActive.com - Website Content Management System with Powerful Communication Tools for Union Website's, 100% Union Made in the USA.
IAFFLocals.com - Complete list of IAFF locals and websites plus featured content from IAFF locals around the US and Canada.
IAFFWebsiteDesign.com - IAFF Web Design, Specifically for IAFF Local Website's, 100% Union Made in the USA.